Giving Opportunity
Support our community partners!
About this Giving Opportunity
As a company, our social impact efforts focus on those who do not have access to crucial small business services because of who they are, who they love, where they live, the color of their skin, or their economic status. While the inherent nature of our business opens up new opportunities for many who may not have had access otherwise, we aim to do more to empower under-represented communities.
We currently have three nonprofit partnerships—Accion Opportunity Fund, Defy Ventures, and USC's Social Enterprise Lab. All are geared to support small business owners in communities that are too often ignored—people of color, women, the LGBTQ+ community, immigrants, and formerly incarcerated people.
Donate for a company match and also check out various volunteer opportunities!
**Your donation will be split evenly between each organization. If you would like your donation to only go to one organization, search them in the cause search bar.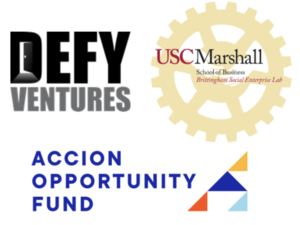 Causes in this Giving Opportunity

San Jose, California, 95113-0000, United States

New York, New York, 10001-1738, United States
How Donations Work
Click any 'Donate Now' button and then decide your donation amount. You will then be forwarded to your payment processor of choice. Once your donation has been processed it will be sent to your charity of choice.
Need Some Help?